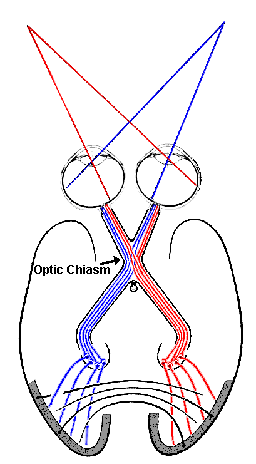 In each hemisphere the hind most part of the brain has a large region for processing images. One might expect the left hemisphere to take only information from the left eye and the right to take only information from the right eye, but that's not what happens.

For stereoscopic vision the information about images from the left and right eye need to be brought together. Nerve trunks from the two eyes carry the signals from each eye to the optic chiasma, a crossing over point located a few centimeters back from the eyes.

In the chiasma 45% of the nerve fibres from each eye cross over to the other side. The two nerve trunks which leave the optic chiasma carry respectively signals from the left of each eye to the left, and from the right of each eye to the right. Because the image on the retina was left-right reversed, the nerve trunk traveling to the left side of the brain carries information about the right field of view, and the nerve trunk to the right carries information about the left field of view.